ENDANGERED: a photographic exhibition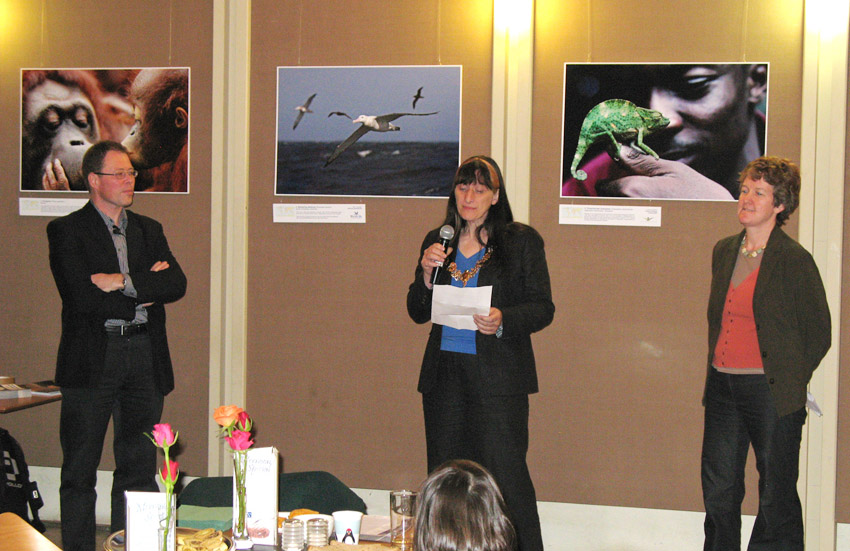 from left: Colin Harris, Director ERA and exhibition organiser, The Mayor of Cambridge Councillor Jenny Bailey, and Dr Rosie Trevelyan, Director of the Tropical Biology Association representing the Cambridge Conservation Forum. (Photo: Ruth Golombok, Atkins). The photographs in the background are from left of an Orangutan by Kitch Bain (© Fauna & Flora International), Wandering Albatross by Ben Lascelles (© Birdlife International) and Three-horned Chameleon by Jeremy Holden (© Tropical Biology Association)
The Mayor of Cambridge, Councillor Jenny Bailey, formally opened the "Endangered" Photographic Exhibition at the Michaelhouse Café in Cambridge, which took place from 11 May - 8 June 2008. The exhibition was organised by ERA for the Cambridge Conservation Forum to draw attention to key conservation concerns facing our planet today and to the impressive range of organisations based in Cambridge that are working hard to turn back the twin tides of species and habitat loss sweeping the world.
These include Birdlife International, Fauna and Flora International, the International Union for Conservation of Nature, UNEP World Conservation Monitoring Centre, TRAFFIC the Wildlife Trade Monitoring Network, the Tropical Biology Association, British Antarctic Survey, ArcCona Ecological Consulting and Environmental Research & Assessment, all of which contributed to the List of 21 photographs illustrating the "Endangered" theme (pdf 3.4MB). The Cambridge Conservation Forum supported the exhibition, and works to coordinate conservation efforts in the Cambridgeshire region from the local to international levels.
Software Training September 2009 Infoterra GeoImaging User Group Conference 2009
Staff at ERA attended the Infoterra User Training and Development Conference in Oxford, 27 to 29 September, 2009. This involved training on the latest Infoterra products and applications and was very informative, expanding the teams' knowledge on several key applications of GIS and Remote Sensing software.
New staff at ERA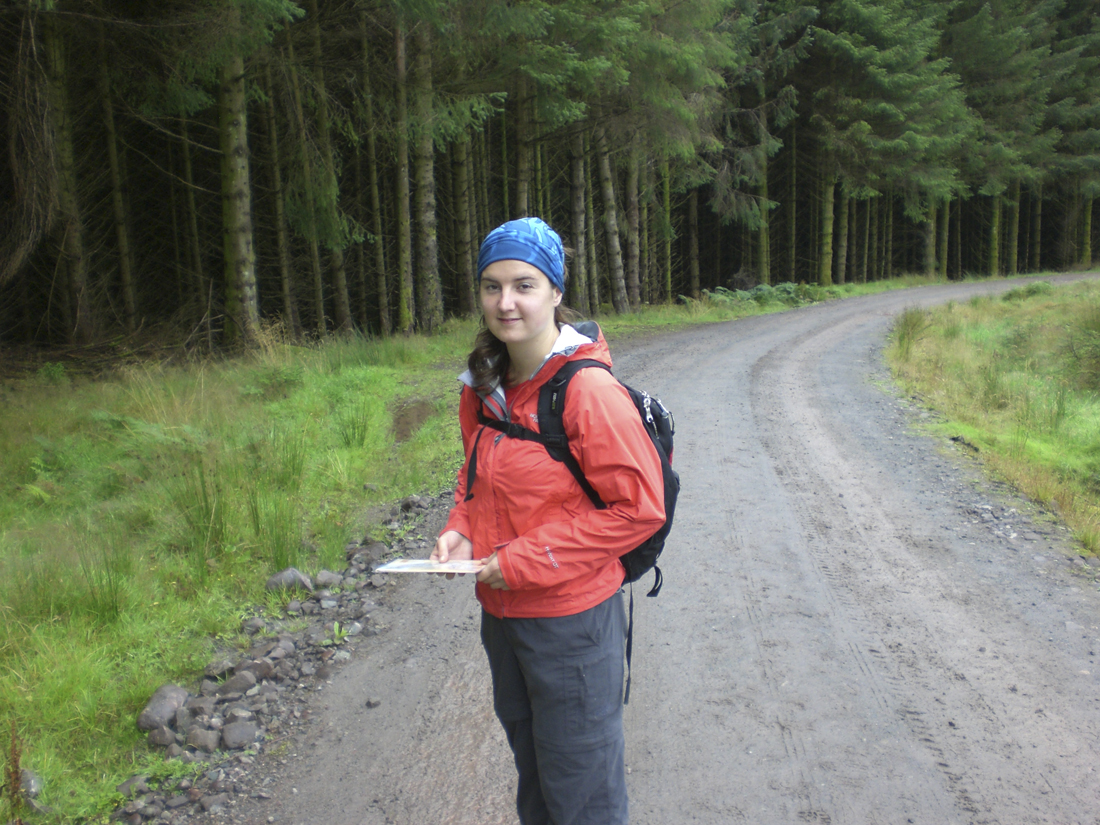 Sarah hiking the West Highland Way, Scotland, September 2008; © S Jones 2008
Sarah Jones joined ERA in September 2009 to work on environmental GIS and remote sensing projects. Sarah completed her MPhil in GIS and Remote Sensing at the Department of Geography, University of Cambridge, in August 2009. Her thesis used Light Detection and Ranging (LiDAR) elevation data and high-resolution aerial photography to analyse the state of terraced slopes in Konso, southwest Ethiopia. In other projects she has classified Landsat TM and ETM+ imagery in order to assess the rate of rainforest depletion in Ghana, and has used geospatial statistics to analyse socio-economic correlates to crime rates across central London. Sarah has a BSc in Mathematics from Royal Holloway College, University of London.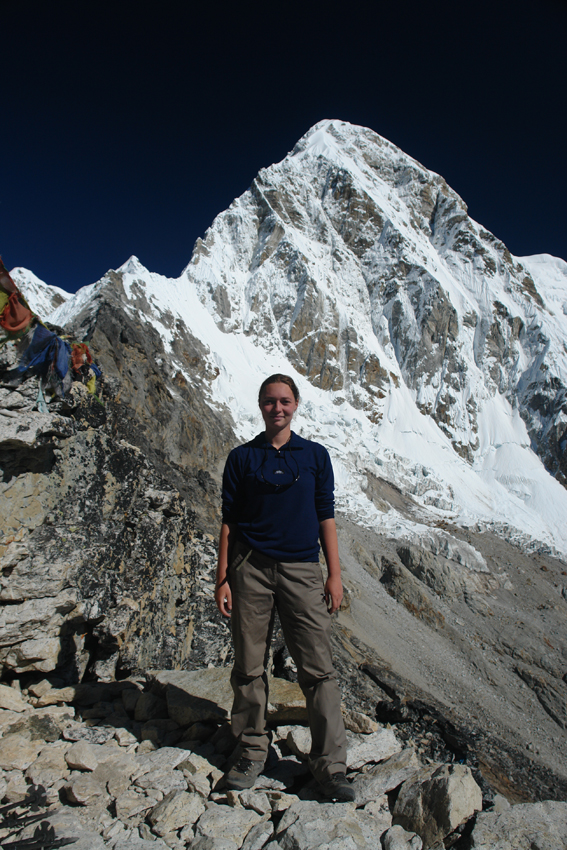 Katharina during her field work in the Khumbu Himalaya, Nepal in October 2008; © K Lorenz 2009
Katharina Lorenz started at ERA last summer to work on GIS and remote sensing projects. Katharina completed her Diplom-Ingenieur (MEng) in Cartography at the Institut fuer Kartographie, Technische Universitaet Dresden, Germany in May 2009. Her diploma thesis is dedicated to glacier monitoring in the Mount Everest Area, Nepal. It deals with the analysis of different spaceborne radar systems (ERS, TerraSAR-X) regarding the derivation of glacier flow and DEM generation using ENVI and SARscape. In other research projects Katharina developed and set up a geodatabase for one of the major coffee growers in Tanzania, and modelled the temporal variation of snow-cover for a hydrological basin in Chile. Katharina has undertaken field-work in Chile, Nepal and Tanzania.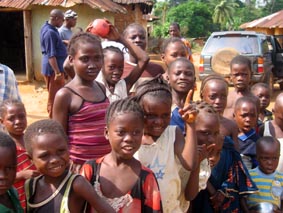 Liberian children; © R. Golombok 2007
March 2008 to April 2009 Support for major EIA in Liberia

ERA provided extensive GIS, remote sensing and ecological support to Atkins for an Environmental Impact Assessment of a mining development in Liberia, West Africa. Fieldwork was carried out to obtain ground control data for image rectification of aerial imagery and SPOT5 satellite imagery to use for vegetation classification and topographic mapping. Work completed by ERA included the design and compilation of a spatial database supporting over 100 GB of data and the production of many hundreds of maps covering topography, slopes, hydrology, landcover, terrain, landscape, air quality, noise, contamination, historical features, ecology, agriculture, communities, and infrastructure.

As part of the project, ERA used state-of-the-art Light Detection and Ranging (LiDAR) technology to create a series of high resolution Digital Elevation Models (3D views of the terrain). After 14 years of civil war, and the optimism surrounding election of the country's new President Ellen Johnson Sirleaf 18 months ago, Liberia is in the process of reform and reconstruction. Responsible development is a key objective of the new government, which Atkins and its client ArcelorMittal aim to help achieve while bringing much-needed jobs, income and improved infrastructure to the local population over the lifetime of the mine and beyond.