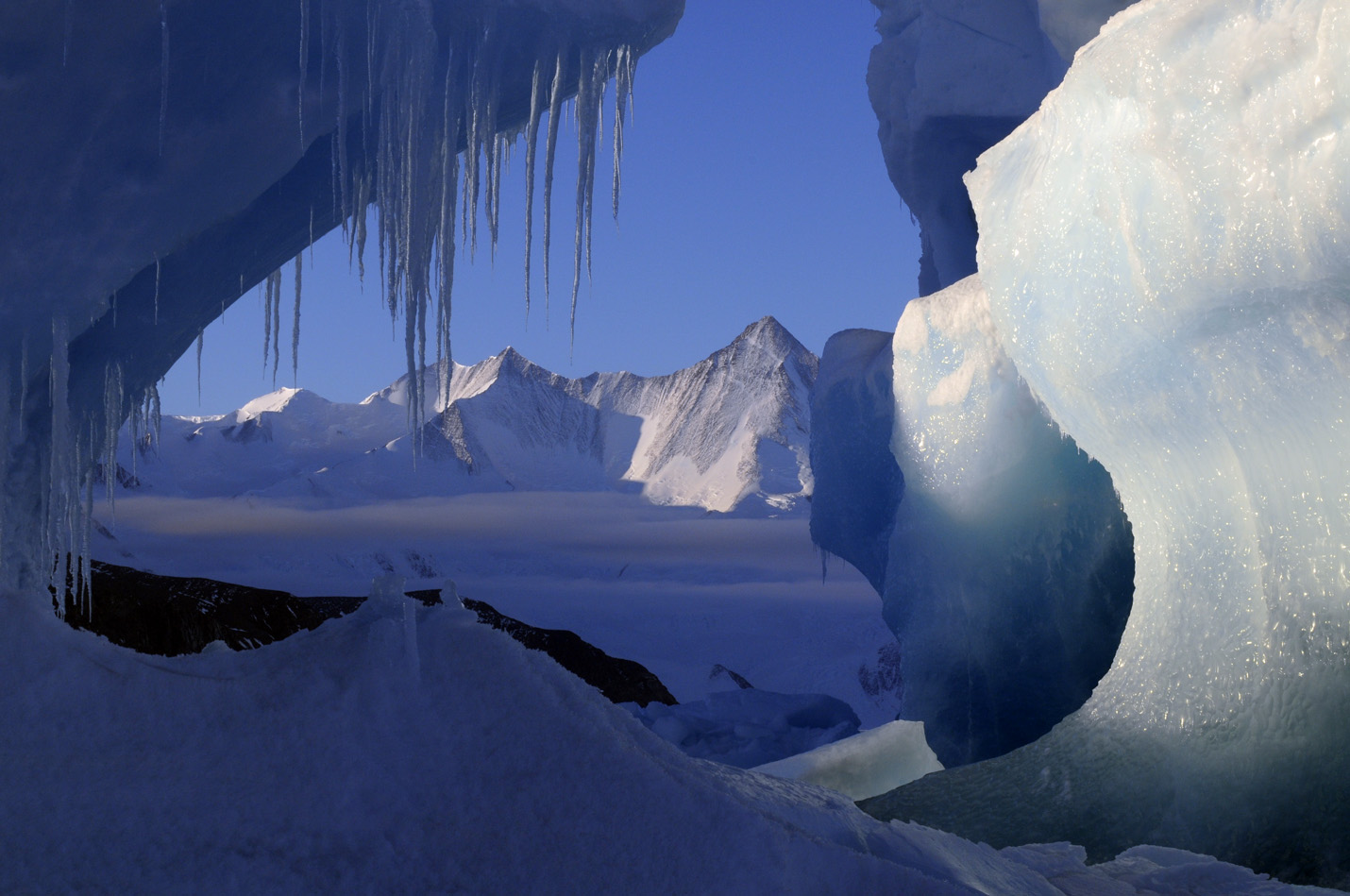 Mount Herschel (3,335m), Victoria Land; © C Harris 2009
ERA judged Winner of Digital Photography Review Antarctic Photographic Challenge
The photograph on the left, taken on Antarctic field work by Colin Harris (ERA Director), has won the Antarctic Photographic Challenge on Digital Photography Review, one of the leading digital photography websites in the world. The photograph of Mount Herschel, Cape Hallett, Ross Sea, was taken around midnight in late November 2009, while ERA was carrying out fieldwork for the US Antarctic Program.
ERA sponsors Polar Remote Sensing Conference
ERA was a 'Supporting Conference Sponsor' of the 11th International Circumpolar Remote Sensing Symposium, held at the Scott Polar Research Institute in Cambridge, UK, 20-24 September 2010. The conference covered remote sensing applications in the polar environments, both Arctic and Antarctic, and was thus very relevant to much of ERA's work.
Staff changes at ERA
Rachel Carr left ERA in mid-August 2010 in preparation for her Ph.D. course which begins at Durham in September. Rachel's project will investigate the effects of climate change on Greenlandic glaciers. Sarah Jones left in early September when her one-year contract with ERA came to a close. We wish them all success in their new endeavours!
Antarctic Field Season 2009-10
Two staff members at ERA, Dr Colin Harris and Rachel Carr, recently completed six weeks of fieldwork in Antarctica, conducted on behalf of the US Antarctic Program (USAP). Work included obtaining high quality ground-control for image rectification in order to update and improve maps of Antarctic Specially Managed Area No.2: McMurdo Dry Valleys. In addition, detailed ground-based surveys of Antarctic Specially Protected Areas in the Ross Sea and McMurdo Dry Valleys were carried out to facilitate updates and revisions to Protected Area management plans across the region.
Recent project developments
Foreign & Commonwealth Office commission ERA to produce a Second Edition of the Antarctic Wildlife Awareness Manual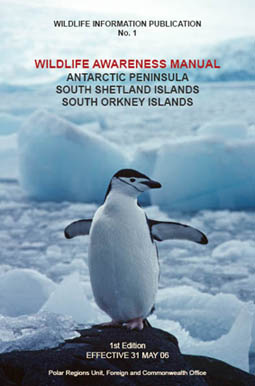 Wildlife Awareness Manual cover
Following the successful publication of the Wildlife Awareness Manual (WAM): Antarctic Peninsula, South Shetland Islands, South Orkney Islands, the Polar Regions Unit of the UK Foreign & Commonwealth Office has commissioned ERA to produce a WAM 2nd Ed. The WAM was originally designed to assist helicopter pilots and aircrew on HMS Endurance avoid concentrations of wildlife when planning and conducting their operations in the region. The second edition of the WAM will feature the most up-to-date bird and seal breeding colony data available; an increased number of geographic place names and spot heights; updates to coastline and contour data; and improved map design and layout. For information on the date of release, watch this space.
Ross Sea Protected Area management plans
Following on from work in previous years, the US National Science Foundation has commissioned ERA to review and update management plans for Protected Areas in the Ross Sea region, Antarctica. Fieldwork completed by ERA and the United States Antarctic Program (USAP) in the 2009-2010 Antarctic field season is being used for a range of purposes, including the update of management plan text and maps for Arrival Heights (ASPA No.122) and Cape Hallett (ASPA No.106). New versions of the management plans for these sites are due for release later this year.
Nimba Regional Atlas
Fauna and Flora International has recently contracted ERA to produce a resource atlas for a Darwin Initiative Project set in the Nimba Mountain region, West Africa. Bordered by Guinea, Liberia and Côte d'Ivoire, the Nimba Range is a World Heritage Site and cross-boundary reserve surrounded by lowland rainforest and savanna. The Nimba Mountains Resource Atlas will focus on conservation, community and commerce in the region, and will include maps showing protected areas, infrastructure, mining and forestry.
Important Bird Areas in Antarctica
ERA are working with Birdlife International and the Government of the British Antarctic Territories to produce a series of site accounts for a newly identified network of Important Bird Areas (IBAs) across Antarctica. IBAs are sites of conservation for globally threatened, restricted-range, migratory or congregatory bird species. Bird breeding colonies are relatively sparse across Antarctica and protecting vulnerable bird species is particularly important for ensuring the biodiversity of the region is maintained.