Dr Ruth Golombok joins ERA as Associate to collaborate on African environmental business
ERA is pleased to announce that Dr Ruth Golombok has joined ERA as an Associate to collaborate on providing bespoke environmental and social development services in Africa. Ruth's focus is in meeting clients' needs for high quality environmental and social advice in the extractives industry in Africa. She has worked on a wide range of African infrastructure & extractives projects, with experience extending over around 20 years. Some of Ruth's high-profile clients have included Tullow Oil, Total, Chevron, Shell, Arcelor Mittal, BHP Billiton, Rio Tinto, Halliburton, the World Bank, and others.
Ruth has identified an opportunity to provide her clients with the customised and targeted service they need to achieve cost-effective solutions to the challenging and complex environmental and social issues faced when initiating and carrying out new developments in Africa.
ERA has a long association with Ruth, starting in 2004 with capacity building for incorporation of sustainability considerations into regional planning in China. More recently we have worked closely together on providing strategic environmental advice for mining developments in West Afrcia and oil field developments in East Africa. ERA is pleased to continue and strengthen our work together, providing Ruth with technical support in GIS & remote sensing, databases, data management, background environmental research, as well as IT, office and accounting services.
Environmental Baseline Survey, Lake Albert, Uganda
ERA undertook field work in October 2012 gathering ground truth data for a landcover assessment in the Lake Albert region of western Uganda. The work was led by Ruth Golombok (formerly AECOM) and carried out by ERA as part of a survey of the environmental baseline for an oil company, working in collaboration with specialists from the Department of Botany, Makarere University, and Eco & Partner Consultants, Kampala. Data gathered on topography, soils and vegetation cover were used to prepare a landcover map from 'Deimos' satellite imagery. The landcover map will contribute to understanding areas of high biodiversity value, which is needed for planning oil exploration activities.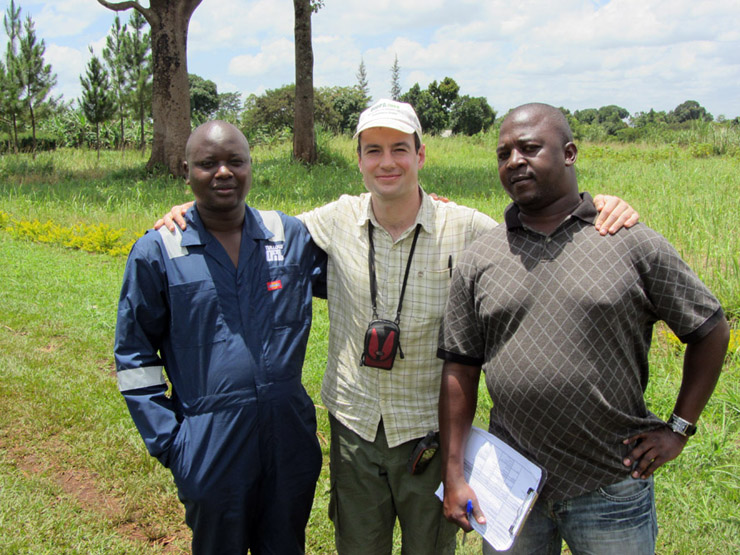 With Dennis Kamoga (R) (Botanist, Makarere University) at a sample point. Photo: Brian O'Connor, ERA, 2012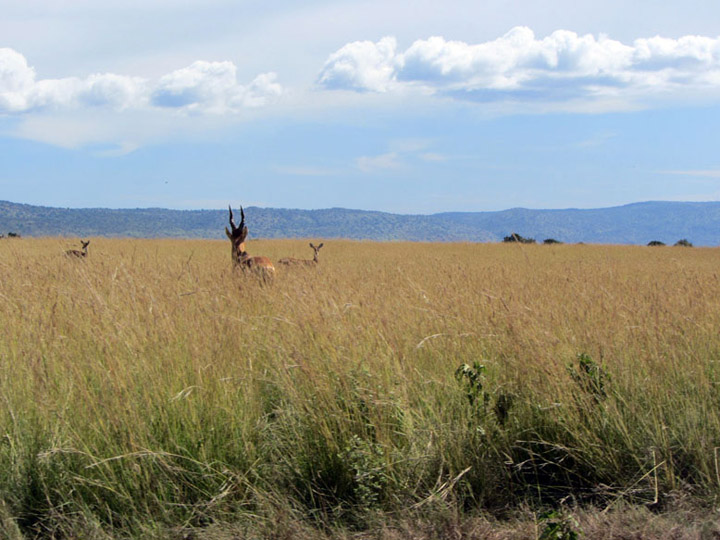 Ugandan cob grazing in open grasslands. Photo: Brian O'Connor, ERA, 2012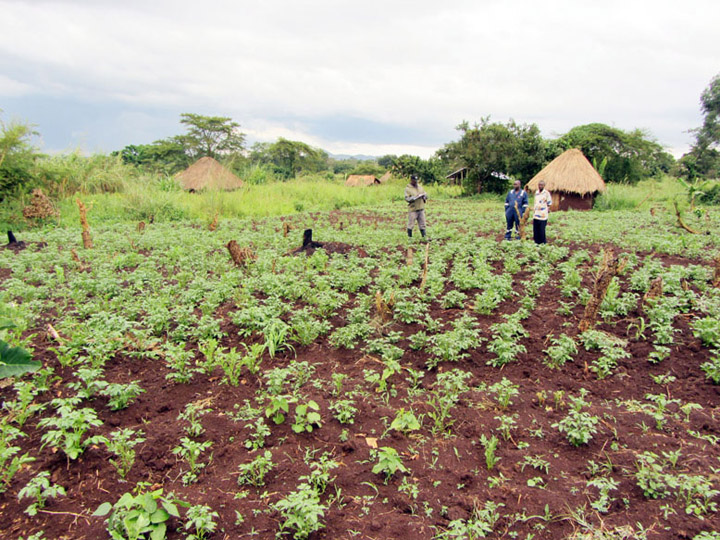 Cultivation in the form of small-scale farming. Photo: Brian O'Connor, ERA, 2012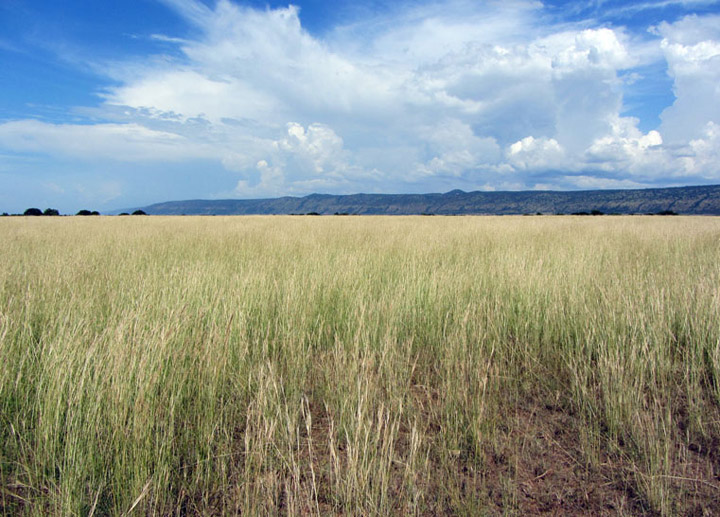 Open grassland with the Rift Valley escarpment in the background. Photo: Brian O'Connor 2012
New staff member joins ERA
Dr Brian O'Connor recently joined ERA following a postdoctoral research position at Aberystwyth University, Wales, exploring the potential of very high resolution satellite imagery for habitat classification of NATURA 2000 sites across Europe. Brian completed his PhD at University College Cork, Ireland, and has expertise in the application of a range of optical satellite sensors in vegetation monitoring and mapping. Brian is currently working on land cover mapping in Uganda using unsupervised and supervised classification of Disaster Monitoring Constellation (DMC) imagery from the
Deimos satellite
.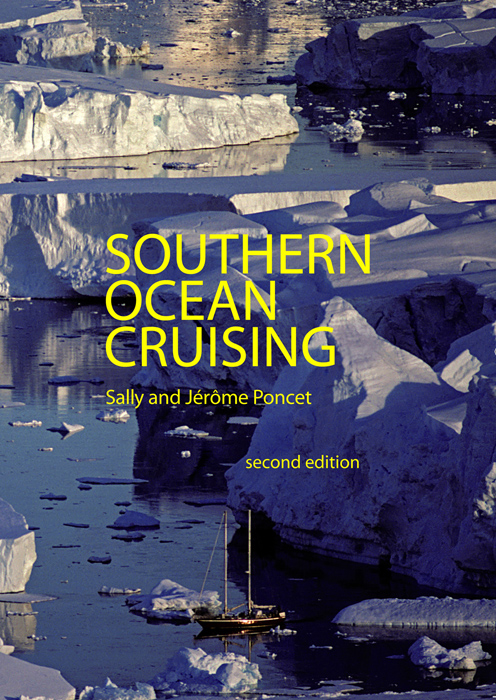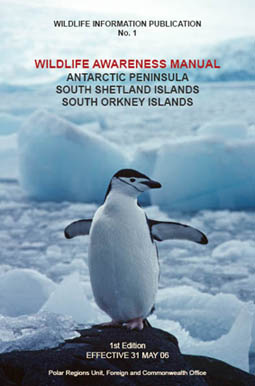 South Pole talk at Norwegian school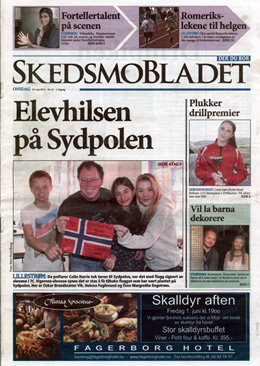 Front page of Lillestrøm newspaper
In May 2012 Dr Colin Harris gave a presentation on life and activities at the South Pole to a class of Year 7 children at Vigernes School in Lillestrøm, Norway. The talk was the second in a series, the first being presented in September 2011 when the class signed a Norwegian flag for Dr Harris to take to the South Pole during ERA field work. When at the Pole in January 2012, the flag was signed by senior managers at South Pole Station, and Dr Harris then returned to Lillestrøm to present it to the class in May 2012. The event was covered by the local Norwegian press, with a feature article appearing in SkedsmoBladet.
ERA recognized for Dry Valleys ASMA Manual in 2011-12 STC Spotlight Awards
Front cover of the McMurdo Dry Valleys ASMA Manual
The McMurdo Dry Valleys Antarctic Specially Managed Area (ASMA) No. 2 Management Plan Manual, which was designed and produced by ERA, won an Award of Merit for its high standard of technical communication at the Society for Technical Communication (STC) Spotlight Awards held in Southern California in January 2012. The awards were for the California Chapter of the STC, and were presented in San Juan Capistrano, Los Angeles, on 28 January 2012. Judges comments included that the manual provides excellent information that is necessary for user support, and is of a user-friendly, physically rugged, and compact design which is ideal for field use. The maps in particular were highlighted for praise as clear and attractive, and the fold-out map legend on the back cover was noted as "a fantastic visual device that is easy-to-use".
Prior to producing the manual, ERA played a significant role in revising the management plan, working closely with colleagues from Antarctica NZ and USAP. ERA was also responsible for production of the maps in the manual, which was a substantial undertaking in itself since many of the maps needed to be constructed from scratch, including building orthophotos and collection of GPS ground control in the field. Rachels Carr and Katharina Lorenz were responsible for this part of the work. The Spotlight Awards gave credit to all of the contributors, in particular:
the Lead agencies of Antarctica New Zealand, the United States Antarctic Program and the Italian National Antarctic Program;
Environmental Research & Assessment Ltd. as the Contractor; and
Member nations of the Antarctic Treaty for their role in management plan review.
Antarctic Field Season 2011-12
ERA Director Dr Colin Harris and GIS Specialist Katharina Lorenz spent much of January 2012 in Antarctica carrying out fieldwork on behalf of the US Antarctic Program (USAP). The fieldwork was conducted at McMurdo Station, the South Pole, the McMurdo Dry Valleys, and at several sites on Ross Island. A particular highlight was working in collaboration with Antarctica NZ on management issues in the Dry Valleys. Ceisha Poirot, Environmental Advisor with Antarctica NZ, joined our team with Kevin Pettway (McMurdo Environmental Lead, USAP) for assessments of issues at the Restricted Zones at Don Juan Pond, Wright Valley and Sand Dune Field, Victoria Valley.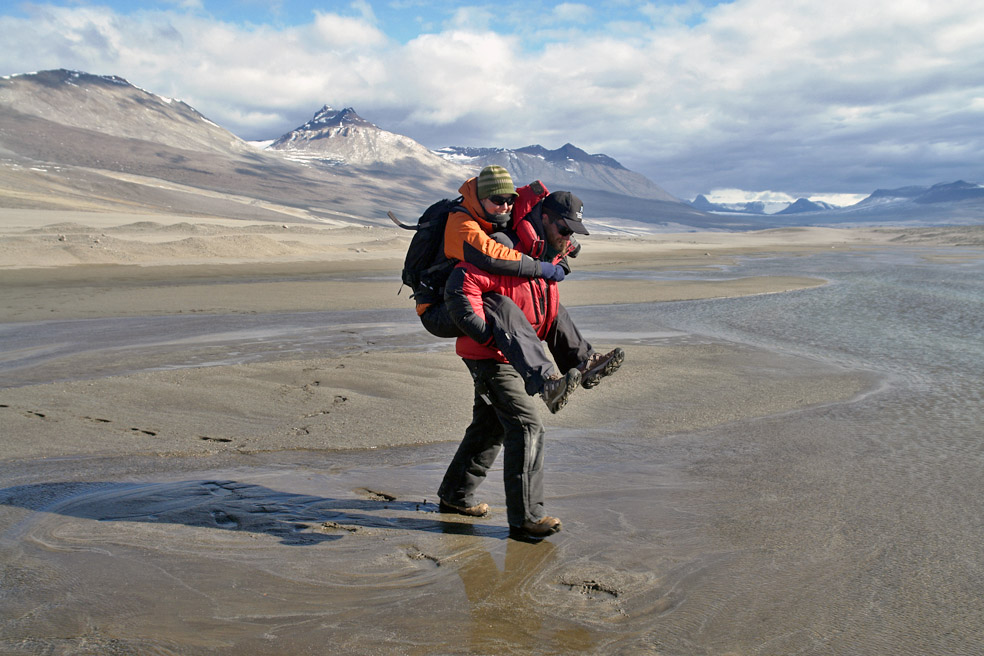 Ceisha Poirot (Antarctica New Zealand) and Kevin Pettway (USAP) are minimizing their footprint at Sand Dune Fields, Victoria Valley; © K Lorenz 2012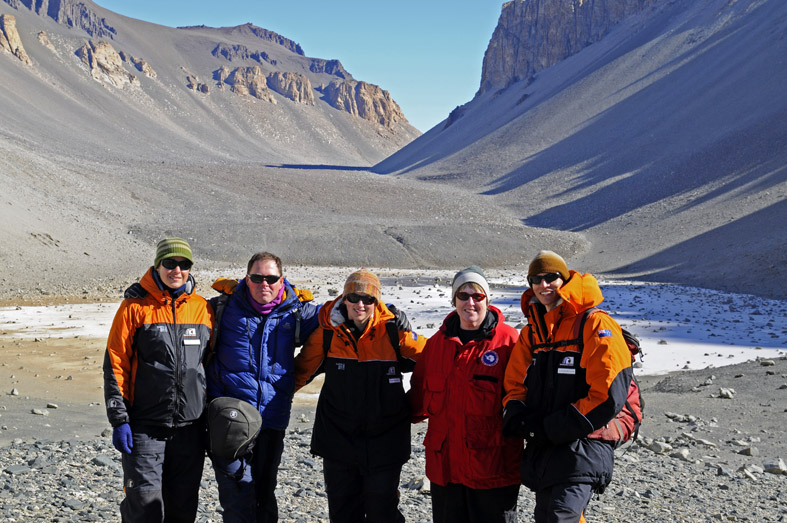 Field visit to Don Juan Pond, Wright Valley. From left to right: Ceisha Poirot (Antarctica NZ), Colin Harris (ERA), Jana Newman (Antarctica NZ), Polly Penhale (NSF), Ewan McIvor (AAD); © C Harris 2012
Another highlight was familiarization with operations at South Pole Station (US) in preparation for assisting with review of the management plan for ASMA No. 5 South Pole as required by the Antarctic Treaty.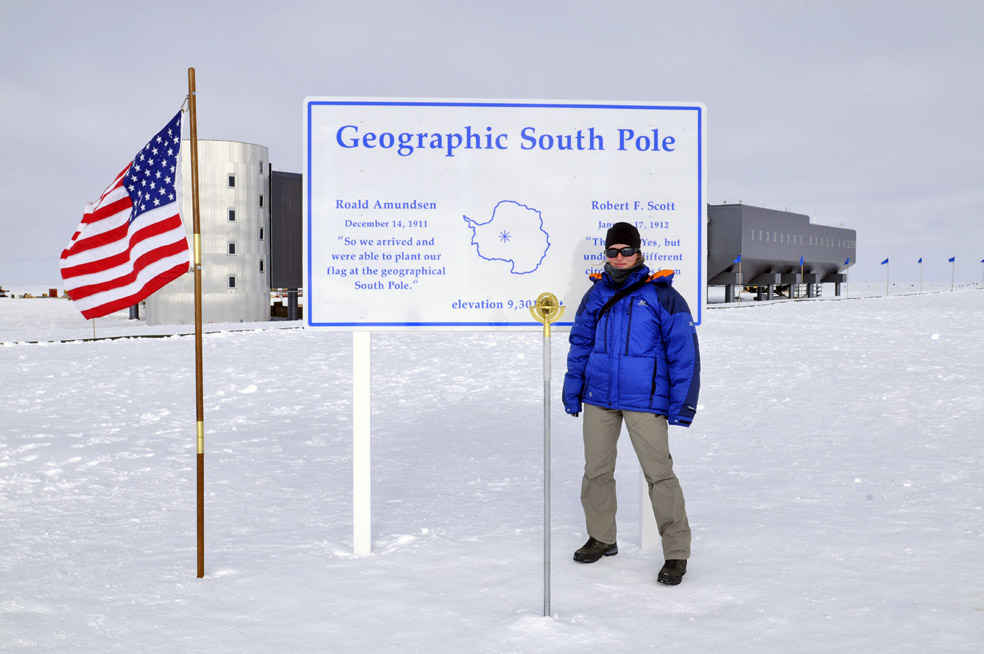 Katharina Lorenz at the Geographic South Pole; © C Harris 2012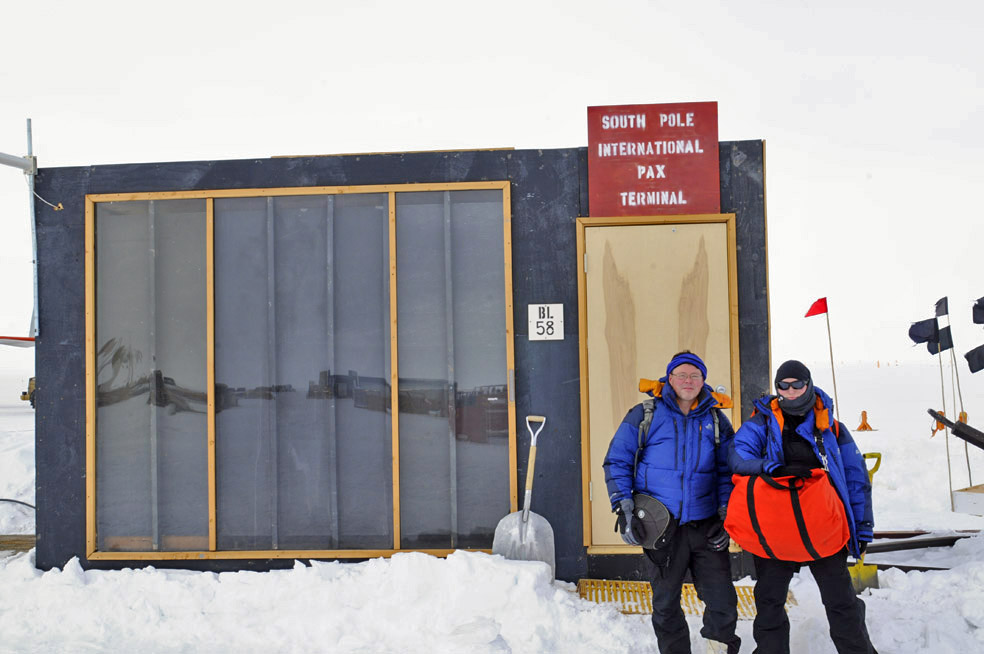 Dr Colin Harris and Katharina Lorenz at the South Pole Passenger Terminal; © C Harris 2012