Cambridge Connect initiative for sustainable public transport in Cambridge launched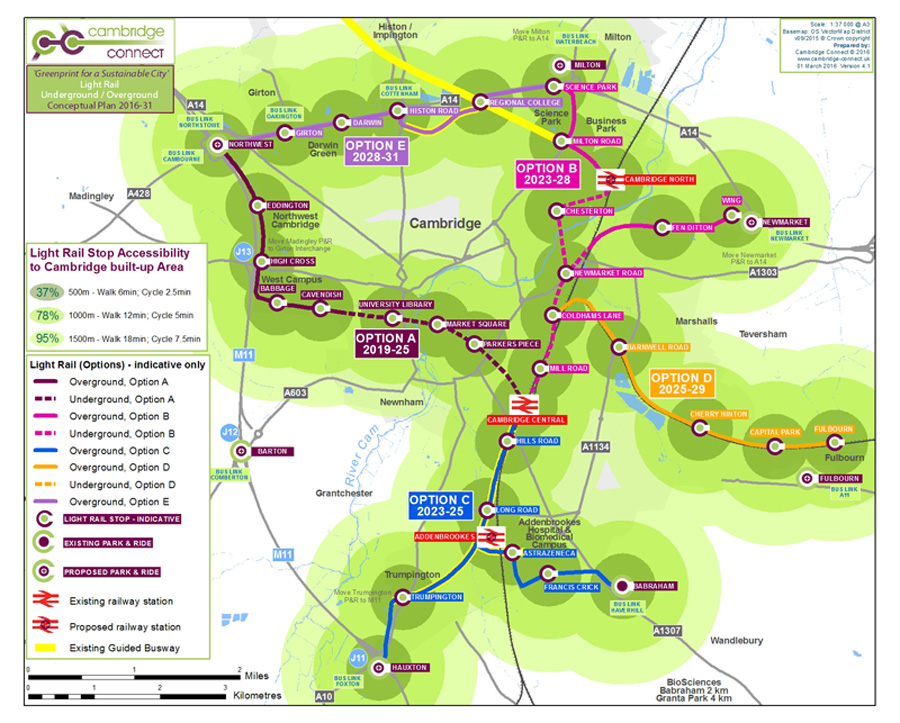 Greenprint for a Sustainable Cambridge
Cambridge Connect is a new initiative recently launched by Dr Colin Harris to promote light rail as a positive alternative for sustainable future public transport in Cambridge, United Kingdom. Cambridge is experiencing unprecedented and rapid growth, driven by the success of the University of Cambridge and of the high-tech science businesses locating here, coupled with its strategic location close to the financial resources of London. As a result, pressures on housing and transport have been mounting, and movement around the city is now regularly in gridlock. Local and central government have recognised that something needs to be done, and a package of funding up to £500M known as the Greater Cambridge City Deal has been agreed to provide a range of measures to address the problems. The principal transport measures being put forward by the City Deal are for new busways to be constructed along most of the radial routes leading into Cambridge, with the objective of speeding up public transport and making it more frequent and reliable.
Many local residents are expressing concerns about the environmental and social impacts of these bus expressways that would drive through their communities. Moreover, no clear plan seems to exist for what will happen to the buses arriving into the city centre once they reach the historic city core. With the rate of population growth and the aim to get more people using these buses, some estimates suggest that in 10-15 years around 200-300 buses per hour would be necessary to transport people into and out of the city. It is unclear where these buses would park to pick up and drop off passengers, or how they would practically move freely on the narrow and congested lanes within the city core.
Cambridge Connect was established out of concern that this approach could have a significant impact on the values of the historic city of Cambridge, including for the globally outstanding heritage landscape, for air quality, inner city amenity, and for the safety and comfort of other road users such as cyclists and pedestrians. Cambridge Connect examined alternative approaches to public tranport provision in Cambridge, considering models used elsewhere in Europe, with the conclusion that light rail with an underground component within the historic city core could represent a much more sustainable approach over the medium to long-term. While very much more expensive right now, Cambridge Connect suggests that this is an investment worth making for a city of such outstanding global importance as Cambridge.
More information on the initiative can be gained from the Cambridge Connect website.
ERA staff supports European Refugee Response Project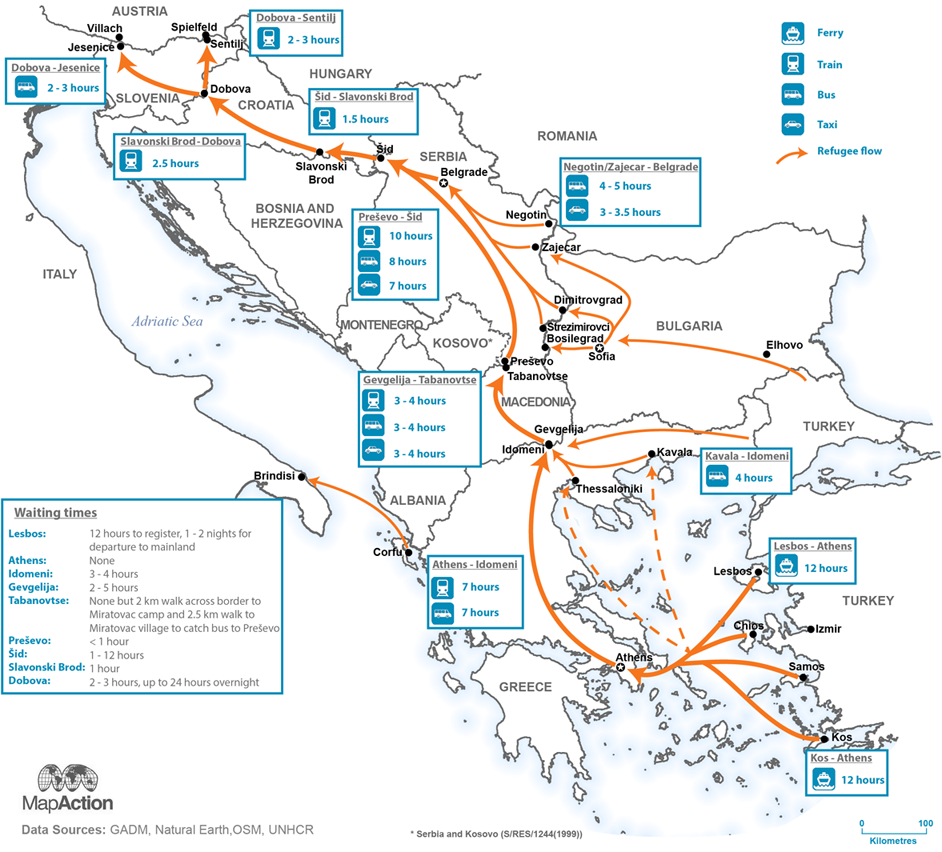 Refugee travel times and transit routes
The Assessment Capacities Project (ACAPS) and MapAction recently launched a project to provide an analysis of migrants in transit through the Balkan countries and the consequent humanitarian situation. The project, funded through the Start Network, was initiated in October 2015 and will run till March 2016. Scenarios, analysis briefings, maps and other visuals are published at regular intervals to inform both immediate operational and strategic decision-making related to the crisis. ERA staff member Katharina Lorenz is supporting the project in her role as a MapAction volunteer as a data visualisation analyst for a two month period. Katharina's GIS and cartography skills have made a key contribution to the project through her clear and informative graphics communicating the nature and the scale of the problem.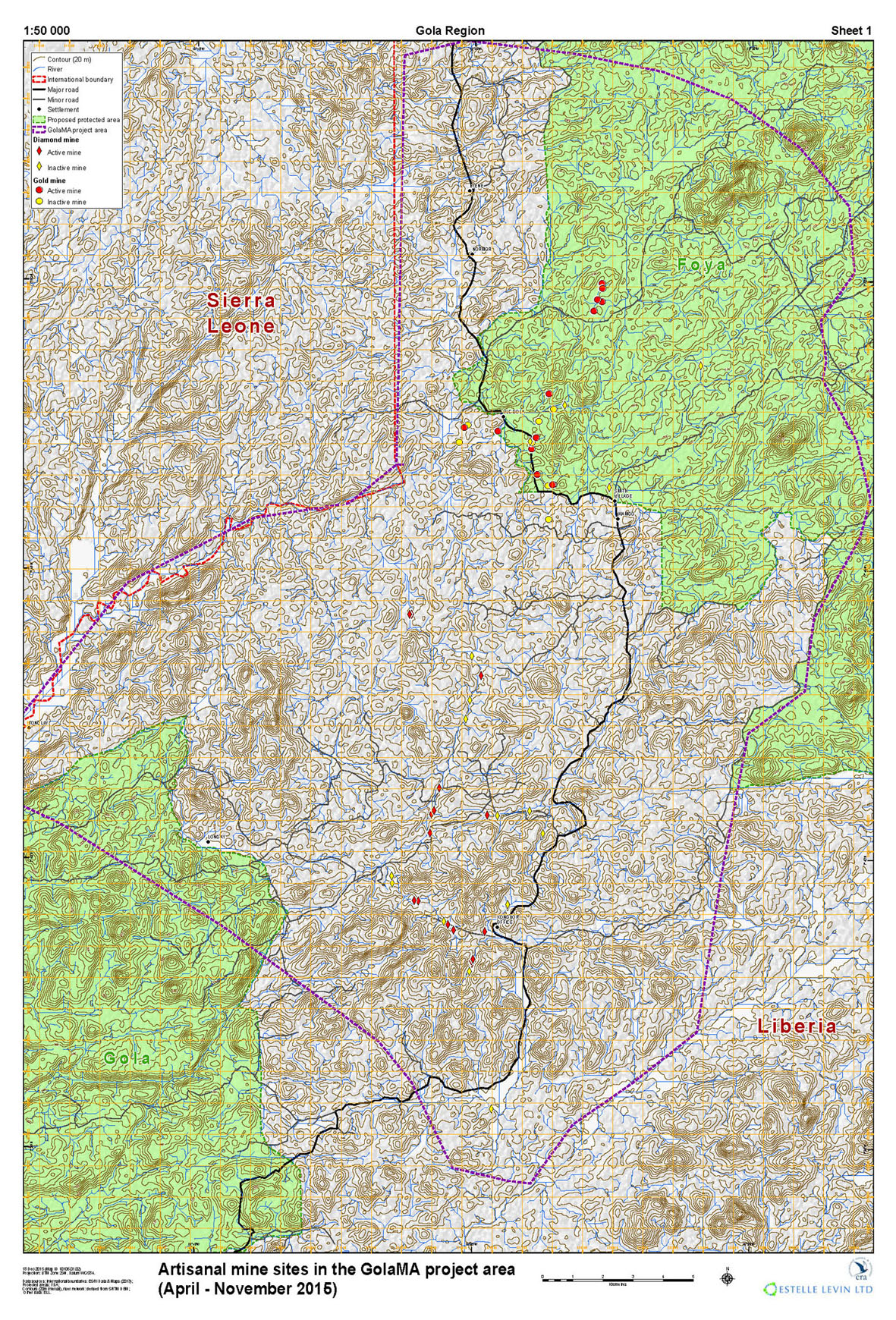 Artisanal mines in the GolaMa project area
ERA was contracted by Estelle Levin Ltd to produce maps for their fieldwork conducted in the Gola region of western Liberia. The work also included the modelling of a river network from a digital elevation model using GIS tools. ELL's aim is to identify strategies for responsible artisanal mining practices in the area. This work is part of the GolaMa project, a partnership between the Government of Liberia, local forest communities and international conservation agencies. The objectives of the GolaMa project are:  (i) establish Community Forest Management Agreements (CFMAs) and financial sustainability business plans,  (ii) ensure forest communities are benefiting from new, sustainable, alternative income generating activities under CFMAs while contributing to forest protection,  (iii) reduce bushmeat hunting/trading of protected species in the project area,  (iv) establish self-regulated sustainable artisanal mining practices, and  (v) determine the potential of carbon trading to provide sustained finance.
ERA was subcontracted by Ruth Golombok Limited in a project for the World Bank undertaken by David Rothe. The aim of the project was to identify priority areas in Liberia for REDD+ intervention. REDD+ stands for reducing emissions from deforestation and forest degradation. The '+' in REDD+ constitutes the role of conservation of forest carbon stocks, sustainable management of forests and enhancement of forest carbon stocks. The analysis focused on three main areas situated in the north-west, central east and south-east of the country. The analysis applied four main criteria: value for conservation, vulnerability to forest degradation, vulnerability to deforestation and viability of intervention. ERA created spatial layers for the first three criteria. An overlay analysis was conducted using GIS methods to identify priority areas and opportunities for intervention.
New Ellsworth Mountains to South Pole map prepared for Antarctic Logistics and Expeditions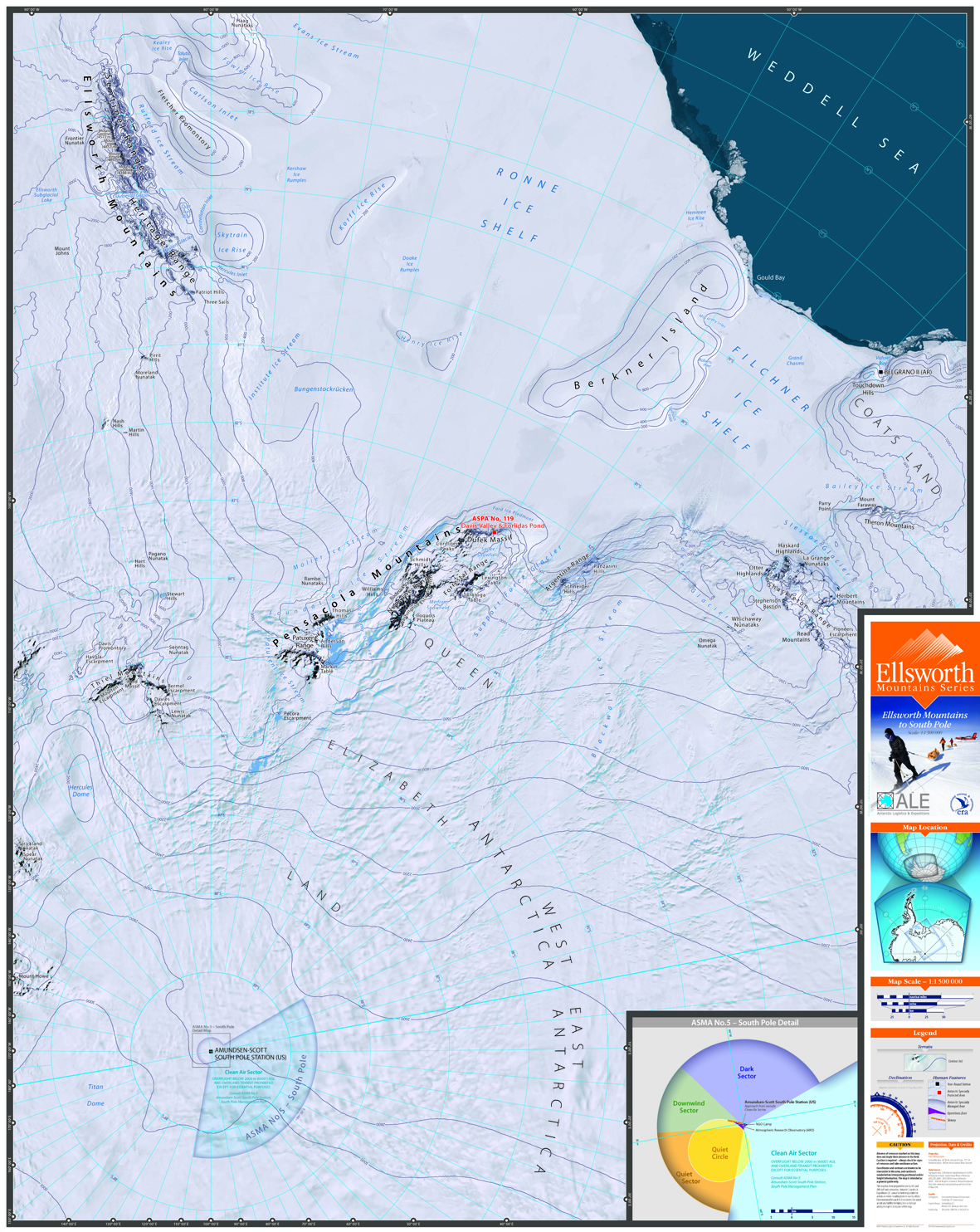 ALE Ellsworth Mountains to South Pole Map
Antarctic Logistics and Expeditions (ALE) operate a camp at Union Glacier, Ellsworth Mountains, Antarctica. Trips offered from the camp include skiing expeditions to the South Pole. This new map was designed as a planning tool and to support field teams during their expeditions to the Pole.

The small scale topographic map at 1: 1 500 000 incorporates elevation data from the Antarctic Digital Database v5 and uses the Landsat Image Mosaic of Antarctica as a background image. The central meridian was customised to 80°W, as this corresponds roughly to the longitude of travel by skiers to the Pole when they start at Hercules Inlet. The map was finalised in October 2015 and printed in low volume for ALE's during the coming season.
New Helicopter Manual for Antarctica New Zealand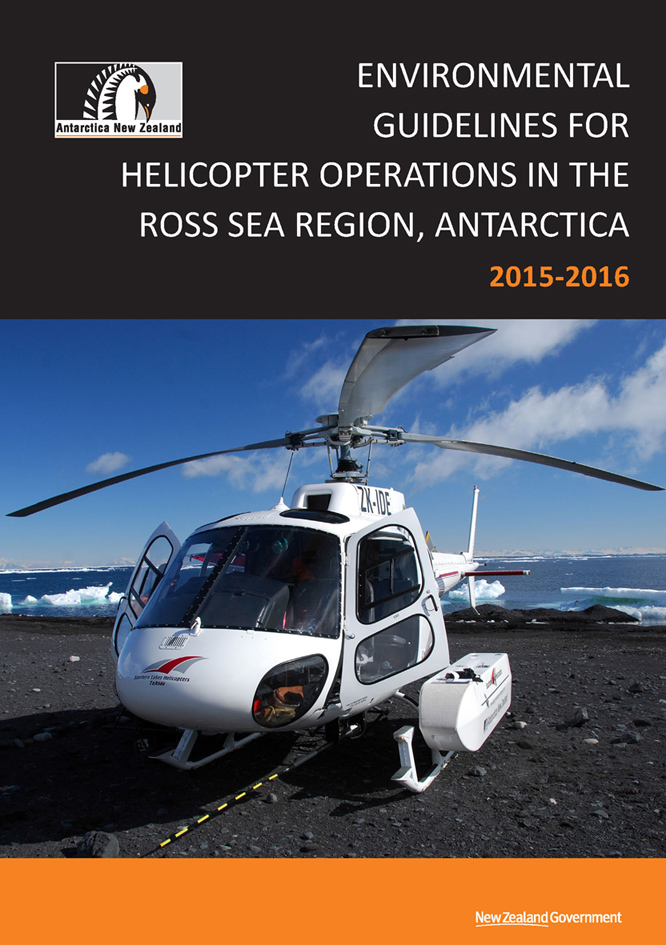 Antarctica New Zealand Environmental Guidelines for Helicopter Operations Manual
ERA was contracted by Antarctica New Zealand to update their 'Environmental Guidelines for Helicopter Operations in the Ross Sea Region, Antarctica'. The manual combines all guidelines relavant for aircraft operations in the region, including procedures for Antarctic Specially Protected Areas and Antarctic Specially Managed Areas. Antarctica New Zealand maintains the manual on an annual basis, which is used in the field by the national programs of New Zealand and the USA.
New Edition of ASMA No.2 McMurdo Dry Valleys Manual
ERA has updated the ASMA No.2 McMurdo Dry Valleys Manual with the latest revisions to the Management Plan adopted at the last Antarctic Treaty Consultative Meeting held in Sofia, Bulgaria in June 2015. Changes were made to identify facilities, camps and landing sites that have been added, moved or removed, and to update data on shorelines and several other physical features. The new manual makes sure visitors to the McMurdo Dry Valleys follow the latest management policies agreed and have access to current information showing facilities, features and protected areas located within the Area. The manual has been printed and is ready for distribution on the ice. A copy of the manual can be downloaded from the resources page.
ERA hosted University of Durham student for work experience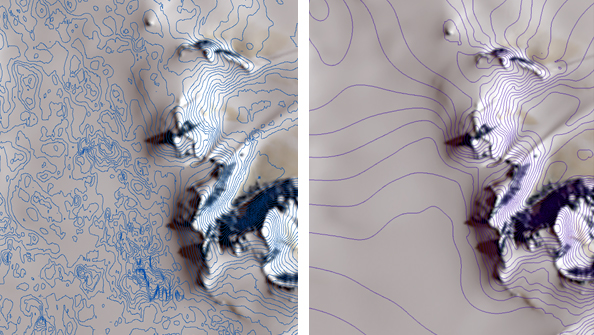 Left: Example of ASTER GDEM contours over rock and ice areas. Right: new DEM contours integrating ASTER GDEM and ICESat data.
University of Durham student Jennifer Arthur joined ERA as an intern in July 2015 to gain experience in the field of GIS, remote sensing, and environmental consultancy. Jennifer is completing an integrated Masters in Physical Geography, specialising in glaciology. One of her projects at ERA contributed to development of a new 1:50,000 scale map series for the Ellsworth Mountains, West Antarctica, including Mount Vinson (the highest peak on the Antarctic continent), which we have started work on for Antarctic Logistics and Expeditions (ALE).

Jennifer's task was first to assess the quality of the ASTER Global Digital Elevation Model (GDEM) data over this area. We found that the GDEM provides an accurate representation across areas where distinct physical features are observed in the ASTER imagery, such as topographic peaks, ridges, and crevasses fields. However, over featureless areas such as broad ice expanses, the GDEM was found to contain high levels of error. When contours are derived from the GDEM, these errors manifest as excessive, convoluted and spurious contour artefacts (see output image at left). We interpret these errors to arise from a lack of visible tie points within featureless areas, which are needed for successful stereoscopic correlation between images to produce an accurate DEM.

To overcome this problem, we needed alternative elevation data over the broad featureless areas to provide an accurate representation of the glacial landforms. Katharina Lorenz, ERA's Senior GIS & Remote Sensing Specialist, identified the ICESat mission as potentially offering a promising data source. These elevation data are derived from laser altimetry gathered along the lines of the satellite orbital path, which is a very different method than the stereo imagery from ASTER. The ICESat data are not suitable to produce an accurate DEM over the mountainous areas, because the orbital paths are spaced too widely to capture detailed topographic variability. However, the distance between paths was sufficient to capture more gentle topographic variation over the broad ice expanses. Thus, we developed a new method integrating the best of both the ASTER and ICESat DEMs to produce a DEM that is accurate over both areas.

The ASTER and ICESat elevation data were integrated to derive a new DEM (30 m resolution) and a revised contour model was produced (see output image at right), resulting in substantial improvements to the overall model. The new DEM was then compared against independent elevation data from GPS tracks gathered by ALE, and against earlier mapping work completed over the Vinson Massif, and we found good consistency in the results. Further work is desirable to compare the results against highly accurate GPS control points.
ERA staff volunteers for MapAction
Katharina Lorenz attended the International Search and Rescue Advisory Group (INSARAG) Asia-Pacific Regional Earthquake Response Exercise in Ulaan Baatar, Mongolia from 22 - 26 June 2015. INSARAG is organised under the umbrella of the United Nations and comprises representatives from a global network of more than 80 countries and organisations. It aims to establish minimum international standards for Urban Search and Rescue (USAR) teams and helps to develop methods to coordinate international earthquake response. Katharina was one of two MapAction volunteers at the event. MapAction is a British humanitarian charity that provides mapping support in response to disasters world-wide, helping relief agencies to respond in the most effective manner possible.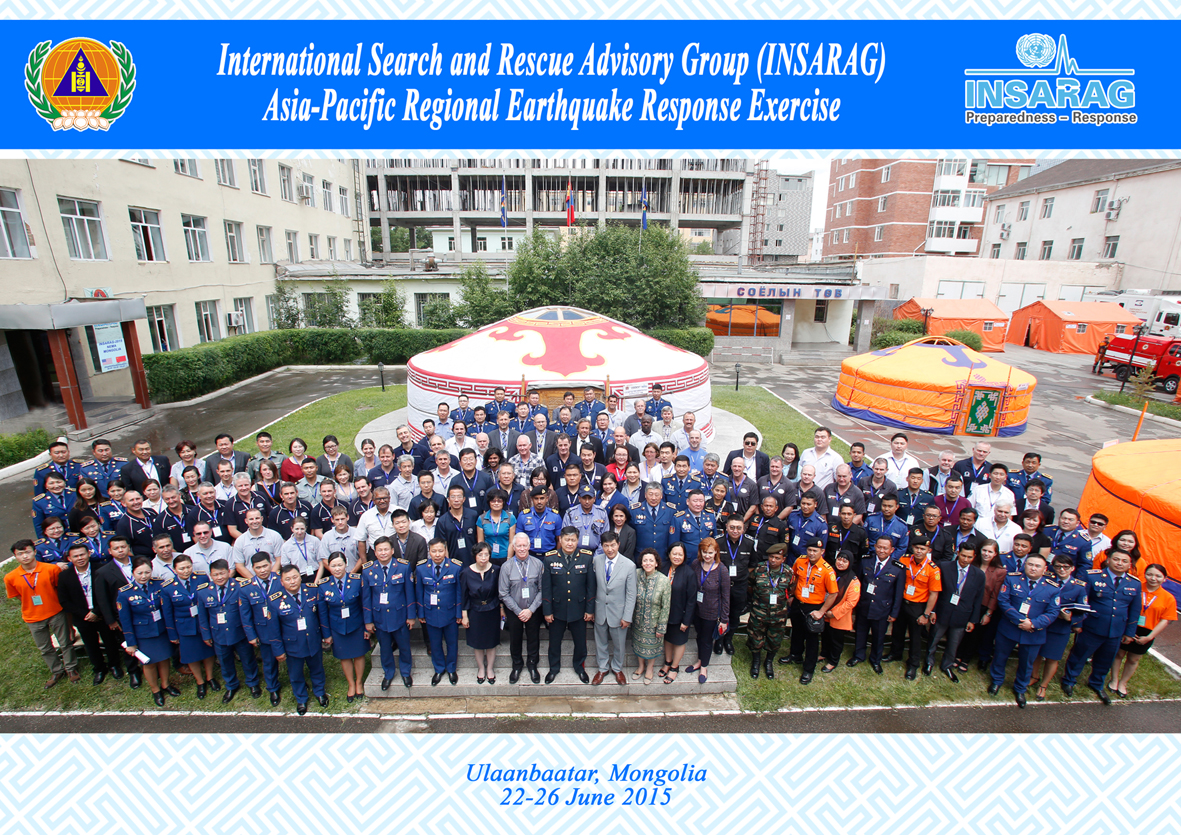 INSARAG Meeting The exercise was attended by 130 people from more than 20 countries and organisations. The first part of the exercise involved presentations by key members of INSARAG, such as the UN Disaster Assessment and Coordination (UNDAC) and Urban Search And Rescue (SAR) teams. The second part involved an exercise to simulate a massive winter earthquake in Ulaan Baatar. The first 14 days of earthquake response were simulated and condensed into 2 days. MapAction's role was to create map products to support response to the simulated disaster.

Katharina delivered a short course on Global Positioning Systems (GPS) to participants in her role as a MapAction volunteer. The course covered the basic theory and use of GPS, with a practical hands-on exercise using handheld GPS units and a demonstration of the integration of GPS data into Google Earth.

Katharina is one of around 70 volunteers for MapAction in the UK who work in the field of mapping, remote sensing, GIS, GPS and spatial data technologies. These volunteers have agreed with their employers arrangements for rapid deployment if called upon in response to emergencies world-wide. Katharina is undertaking extensive training by MapAction to become elegible for deployment in the future.
Important Bird Areas in Antarctica
Together with BirdLife International and a range of leading Antarctic bird specialists worldwide, ERA has completed a report on the Important Bird Areas (IBAs) in Antarctica. A total of 204 IBAs were identified by analysing data on bird breeding populations against criteria established by BirdLife and Antarctic bird specialists. A summary of the results is being presented to the Committee for Environmental Protection at the Antarctic Treaty Consulative Meeting being held in Sofia, Bulgaria, in June 2015.

The project has been supported by the Australian Antarctic Division, Antarctica New Zealand, the New Zealand Department of Conservation, the Norwegian Polar Institute and Nowegian Ministry of Foreign Affairs, the UK Foreign & Commonwealth Office, the US National Science Foundation, and the Pew Charitable Trusts and British Bird Fair. Further information.
Antarctic Peninsula Wildlife Awareness Map Series: Second Edition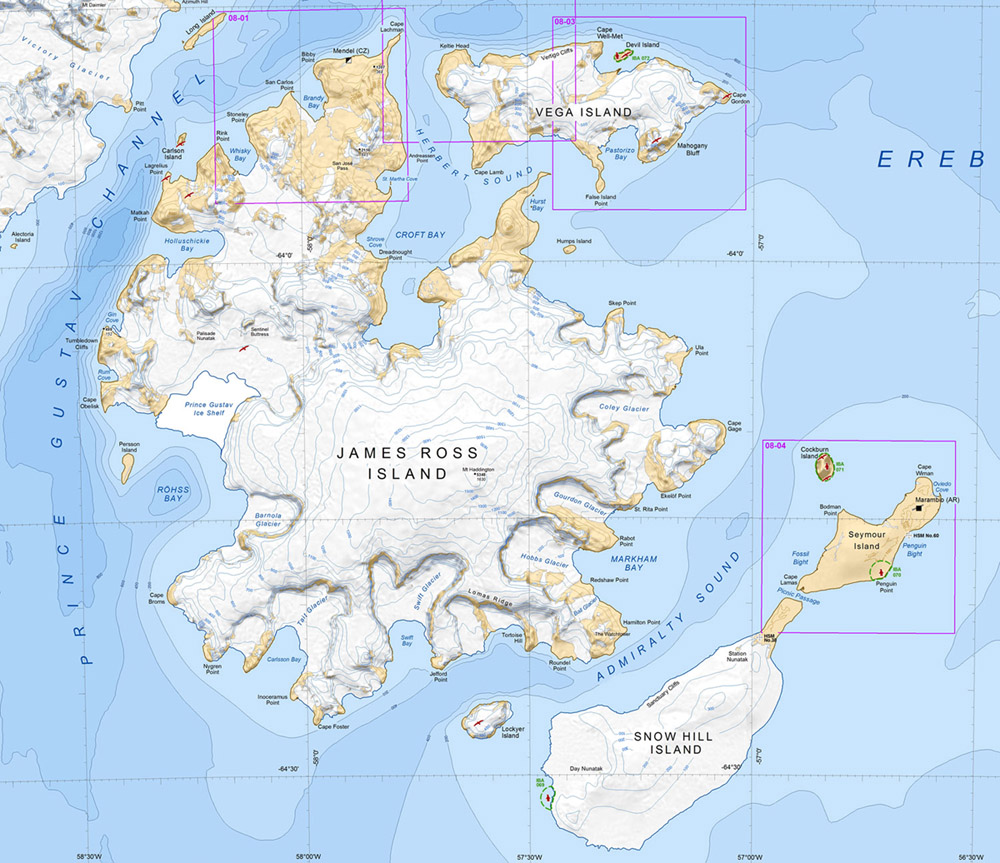 Wildlife Awareness Map Series Sheet 4 extract: James Ross Island
ERA has completed the Second Edition of the Wildlife Awareness Map Series covering the Antarctic Peninsula, South Shetland Islands and South Orkney Islands. The series consists of 6 large-format (A0) and 2 medium format (A1) maps prepared at a scale of 1:250,000. The purpose of the maps is to assist the British Naval patrol vessel HMS Protector in its operations in Antarctica. The map series was originally designed to supplement the FCO Wildlife Awareness Manual, which was primarily to support helicopter ops on HMS Endurance and published by ERA in 2006. While HMS Protector (the successor to HMS Endurance) does not have helicopters, there remains the need for up-to-date maps showing key features, including as an aid for sound environmental management.
The new edition includes updates to the topographic basemap and the addition of bathymetric data, as well as updates to wildlife, protected areas, historic sites and infrastructure data. The 'Important Bird Areas' recently identified in a project by ERA and BirdLife International are also included. The update was commissioned by the Polar Regions Department of the UK Foreign and Commonwealth Office. Owing to printing costs, the series has a limited distribution and copies may only be obtained by special order to ERA.