Southern Ocean Cruising: Sally and Jérôme Poncet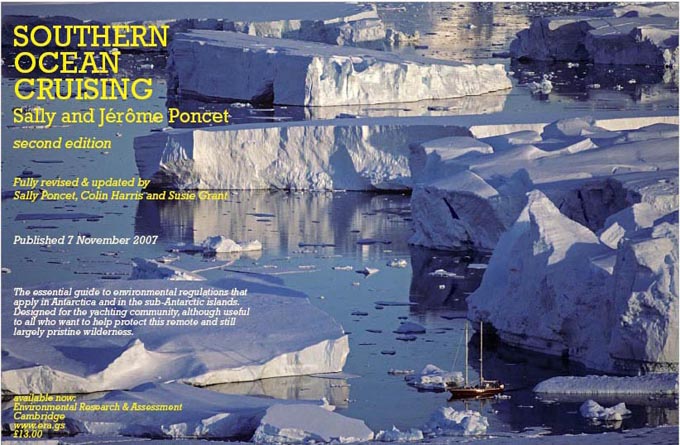 Damien II near Rhyolite Islands in George VI Sound, Antarctic Peninsula, January 1989. Photo: © Ben Osborne.
Online sales update October 2015
Unfortunately, ERA does not have an online shop. However, purchase can be made using PayPal. The book is £12.00 plus packing / shipment by Royal Mail (1st class or air) as follows: within UK £5.00; EU £8.00; USA / elsewhere £10.00. If you have a PayPal account you can make payment to the email address of Colin Harris, adding £1.00 to the cost to cover our PayPal fee. Alternatively, we can accept payment in advance by cheque in GBP drawn on a UK bank account, or by wire to ERA's account (within UK by BACS). Prices do not include international wire payment charges. Regrettably we do not have facilities to accept payment by credit card. Please contact us by email should you wish to make an international purchase from outside of the UK and are not able to pay by PayPal.
Overview
Sally and Jérôme wrote the first edition of this classic handbook in 1991 with the aim of highlighting the special nature of the Southern Ocean, Antarctica and the sub-Antarctic islands, and the region's inherent fragility. They emphasised the importance of understanding and appreciating this unique environment as the basis for taking care of it, yet acknowledged that with increasing visitation there has come the necessity for certain rules so that these outstanding values can be sustained into the future. Their vision remains highly relevant today.
The Second Edition published by ERA on 7 November 2007 includes far-reaching changes to the environmental regulations in the Antarctic and sub-Antarctic regions. Produced at the request and with the support of the Polar Regions Department in the Overseas Territories Directorate of the United Kingdom Foreign & Commonwealth Office, the Second Edition of Southern Ocean Cruising helps make information on current environmental requirements more easily accessible and better understood, and as such is an essential reference for anyone planning to visit the region, and especially for those undertaking private expeditions.
Southern Ocean Cruising is an A5-sized book of 160 pages with 68 clear and informative maps, and is finished in an attractive glossy softcover binding. The full-spread cover photograph (shown above) is by award-winning photographer Ben Osborne (Shell Wildlife Photographer of the Year 2007) and the Title Page sketch of an albatross soaring over the Southern Ocean is by the reknowned yachtswoman Ellen MacArthur.