Wildlife Awareness Manual: Antarctic Peninsula, South Shetland Islands and South Orkney Islands
ACKNOWLEDGEMENTS
HMS Endurance: Special acknowledgement is made to the Captains, crew and 212 Flight, 815 Royal Naval Air Squadron, of HMS Endurance for their contributions of expertise and information - especially the extensive and important technical flight information and photographic documentation in the HMS Endurance Helicopter Landing Site Guide - without which this publication would not have been possible. Special thanks are due to Captain Tom Karsten RN (Commanding Officer HMS Endurance 2004-05 season), Captain Nick Lambert RN (Commanding Officer HMS Endurance 2005-06 season), Lt Mark Jameson RN (Flight Commander), Lt Karl Weston RN (Flight Operations Officer), Lt Simon Collins RN (Flight Operations Officer), Lt Mark Swindells RN (Flight Pilot), Lt Lee Evans RN (Flight Pilot), Lt Scott Simpson RN (Flight Observer), POAC Tony Staples (Aircraft Controller), POAC Andy Johnson (Aircraft Controller).
Foreign & Commonwealth Office: Mike Richardson, Jane Rumble, Neil Gilbert (WAM development before taking up post as Environmental Manager at Antarctica New Zealand).
British Antarctic Survey: BAS Air Unit, BAS Photographic Unit, Dirk Briggs, John Croxall, Rod Downie, Adrian Fox, Peter Fretwell, Gerry Nicholson, Christine Phillips, Jo Rae, Keith Reid, John Shears.
Scientific Committee on Antarctic Research: SCAR's role in the coordination of Antarctic research has been vital to the development of key databases underpinning the WAM. SCAR is thanked for kind permission to use the Antarctic Digital Database (v.4.1, SCAR 2005) as the map base.
Scott Polar Research Institute: for access to library and map resources.
Other contributors: Bob Farrell, Bill Fraser, Mike Goebel, Ron Naveen, Jean de Pomereu, Eric Woehler, and the Palmer Long Term Ecological Research (LTER) programme.
WAM production: Susie Grant, Fiona Danks, Sally Poncet, Nick McWilliam, Esther Bertram.
Special thanks to Sally Poncet for providing access to previously unpublished data on Antarctic shags (Phalacrocorax [atriceps] bransfieldensis) and southern fulmars (Fulmarus glacialoides).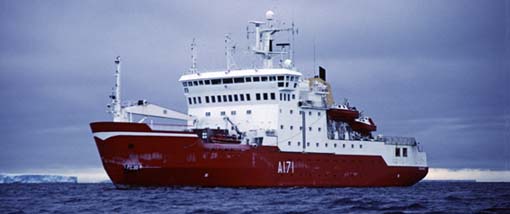 HMS Endurance, Antarctic Sound. Photo: © Colin Harris 2001.