Online sales update October 2015
Unfortunately, ERA does not have an online shop. However, we can accept payment by PayPal. The book is £12.00 plus packing / shipment by Royal Mail (1st class or air) as follows: within UK £5.00; EU £8.00; USA / elsewhere £10.00. If you have a PayPal account you can send payment to the email address of Colin Harris, adding £1.00 to the cost to cover our PayPal fee. Alternatively, we can accept payment in advance by cheque in GBP drawn on a UK bank account, or by wire to ERA's account (within UK by BACS). Prices do not include international wire payment charges. Please contact us by email should you wish to make an international purchase from outside of the UK and are not able to pay by PayPal.



Wildlife Awareness Manual cover: Chinstrap penguin, South Shetland Islands; © Colin Harris 2006
WAM design & background
The First Edition of the Wildlife Awareness Manual (WAM) covering the Antarctic Peninsula / South Shetland Islands / South Orkney Islands region WAM was published on 31 May 2006. The manual provides practical information on breeding wildlife (penguins, petrels, shags, fulmars, fur seals) colony locations, which are identified on maps. It was designed primarily for use by aircraft operators, and provides orientation maps, photographs and summary information on key wildlife and landing sites. The aim is to minimise the potential for environmental impacts from flight operations. However, the manual will be of interest to anyone wanting to know where wildlife breed in the region. and information on scientific stations, protected areas and historic sites is also included.
The WAM is an A5-sized spiral bound book of 136 pages with 156 colour maps and 31 colour photographs, and is produced on tough synthetic paper to withstand rugged field conditions. The WAM was prepared for the Polar Regions Unit of the United Kingdom Foreign and Commonwealth Office to help support HMS Endurance aircraft operations. The WAM helps to implement practically Antarctic Treaty Consultative Meeting (ATCM) Resolution 2 (2004), which set out Guidelines for the Operation of Aircraft Near Concentrations of Birds in Antarctica. ERA earlier prepared the original papers that the United Kingdom put to SCAR and the ATCM over 2001-03, which set out the need and rationale for the guidelines.
The WAM was presented by the UK Government to the Antarctic Treaty Consultative Meeting XXIX, held in Edinburgh, Scotland, 12-23 June 2006.
Aircraft are vital for support of Antarctic operations, with both fixed-wing and rotor aircraft used extensively in the summer period. Wildlife are potentially sensitive to aircraft noise and visual intrusion (Rounsevell and Binns 1991; Cooper et al. 1994; Giese and Riddle 1999; Harris 2005). It is important that information on colony locations is readily accessible to aircraft operators in order that flight routes and elevations can be adjusted so that impacts can be kept to the minimum practicable. Aids such as maps showing wildlife colony locations can assist aircrew and management to make informed judgements about the likely effects of operations before they are carried out.
The WAM was developed in close collaboration with 212 Flight 815 Royal Naval Air Squadron HMS Endurance. Helicopters are flexible in where they can land and routinely fly at low elevations, while breeding wildlife exists at many remote sites. Previously, there was no product available that provided information on these colony locations in a form that aircrew could use.
Fixed-wing pilots, operations personnel, and environmental, biological and mapping professionals from the British Antarctic Survey also contributed photos, supplementary maps and helpful comments on the design of the product. The format was modelled on an existing helicopter landing site manual produced by the Air Information Documents Unit of the United Kingdom Royal Air Force (AIDU 2003), but was adapted to meet the specific needs of improving wildlife awareness under the conditions found in Antarctica.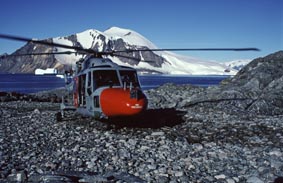 HMS Endurance Westland Lynx HAS MkIIS, Lagotellerie Island; © Colin Harris 2001
All known breeding colonies of penguins (Pygoscelis antarctica (chinstrap), P. adeliae (Adélie), P. papua (gentoo), Eudyptes chrysolophus (macaroni)), southern giant petrels (Macronectes giganteus), Antarctic petrels (Thalassoica antarctica), Antarctic shags (Phalacrocorax [atriceps] bransfieldensis), southern fulmars (Fulmarus glacialoides), and Antarctic fur seals (Arctocephalus gazella) are included irrespective of colony size. Skuas (Catharacta sp.), gulls (Larus dominicanus), other petrels, and other seals are not shown because of limitations to the availability of data, although it is hoped that these gaps can be addressed in the future.
Wildlife data for the WAM was compiled in a Geographical Information System by ERA and was drawn from a wide range of sources, including the comprehensive SCAR database on Antarctic penguins (Woehler 1993, updated 2004) - drawing on over 132 references - and considerable unpublished data contributed by Sally Poncet, Bill Fraser (Palmer LTER), and others. The distribution of penguins on the Antarctic Peninsula and islands of the Scotia Sea (Croxall & Kirkwood 1979) was also a key reference. The maps are based on the SCAR Antarctic Digital Database (v.4.1, SCAR 2004). Information on landing sites was provided by HMS Endurance (212 Flight, 2002-06). Information on protected areas was drawn from the Committee for Environmental Protection (CEP) Antarctic Protected Areas Information Archive (this website was originally built in 2003-04 by ERA), including adopted overflight and landing restrictions.
"An excellent piece of kit" - POAC Andy Johnson RN, Aircraft Controller, in Lynx cockpit with WAM on HMS Endurance in Edinburgh 17 June 2006.
Photo: © Susie Grant 2006.
In order to maximise use of the WAM, and therefore effectiveness, guidance for approach and landing at helicopter landing sites regularly visited by the UK is included. The intent, however, is not to replace those manuals providing important technical aeronautical data, and users are referred to COMNAP's Antarctic Flight Information Manual (AFIM) as the authoritative source for that type of information. Many national operators also have developed their own technical aeronautical manuals.
Drafts of the WAM were field tested by 212 Flight over two seasons (2004-06), who found it to be a very useful tool in support of their type of operation. Key benefits have been improvements in their ability to plan flight paths in more detail prior to take off, and then once in the air the WAM is a ready reference that can be consulted in-flight. This has enabled them to carry out operations in a more effective manner while reducing the potential for harmful environmental effects.
The WAM will be updated on a regular basis as new and improved information comes to hand. National operators and researchers working in the region are encouraged to contribute relevant information they may have available.
References
212 Flight, 2002-2006. HMS Endurance Helicopter Landing Site Guide. Unpublished 212 Flight internal documents, 815 Royal Naval Air Squadron, Yeovilton.
AIDU, 2003. Helicopter Landing Sites, United Kingdom. No. 1 Aeronautical Information Documents Unit, Royal Air Force, Flight Information Publication. RAF Northolt, Ruislip.
Cooper, J., Avenant, N.L. & Lafite, P.W. 1994. Airdrops and king penguins: a potential conservation problem at sub-Antarctic Marion Island. Polar Record 30(175): 277-282.
Council of Managers of National Antarctic Programs, 2006. Antarctic Flight Information Manual (AFIM): a Handbook of Antarctic Aeronautical Information [Updated 2006]. Prepared by SCALOP of the Council of Managers of National Antarctic Programs, Hobart.
Croxall, J.P. & Kirkwood, E.D. 1979. The distribution of penguins on the Antarctic Peninsula and islands of the Scotia Sea. BAS, Cambridge.
Giese, M. & Riddle, M. 1999. Disturbance of emperor penguin Aptenodytes forsteri chicks by helicopters. Polar Biology 22: 366-371.
Harris, C.M. 2005. Aircraft operations near concentrations of birds in Antarctica: The development of practical guidelines. Biological Conservation 125: 309-22.
Rounsevell, D. & Binns, D. 1991. Mass deaths of King Penguins (Aptenodytes patagonicus) at Lusitania Bay, Macquarie Island. Aurora 10(4): 8-10.
SCAR Antarctic Digital Database (ADD) Version 4.1 2004. Maintained by British Antarctic Survey, Cambridge.
Woehler, E.J. 1993. The distribution and abundance of Antarctic and Subantarctic penguins. SCAR, Cambridge. [Updated 2004].