Important Bird Areas in Antarctica
NEW: ERA and BirdLife International have released the report Important Bird Areas in Antarctica 2015 (PDF, 17MB).
NEW: ERA has implemented an Interactive Map Viewer for the Important Bird Areas in Antarctica
ERA has been working with Birdlife International, the Scientific Committee on Antarctic Research (SCAR), the Secretariat of the Agreement on the Conservation of Albatrosses and Petrels (ACAP) and scientists worldwide to define Important Bird Areas (IBAs) in Antarctica. Data on numbers of birds at breeding colonies were analysed against criteria defined by BirdLife to a derive a list of 204 IBAs throughout Antarctica (click on the overview map below). The report Important Bird Areas in Antarctica 2015 (PDF, 17MB) includes a series of maps showing the distribution of IBAs across Antarctica. The report also includes Site Accounts that describe the local environment at each IBA, the number of breeding birds, other species present, nearby scientific stations, prominent conservation issues, and a list of further information sources. Each IBA has a site map showing the main features and indicative bird breeding locations. The Important Bird Areas in Antarctica 2015 Summary (PDF, 3MB) presents the site list, regional maps and methods only.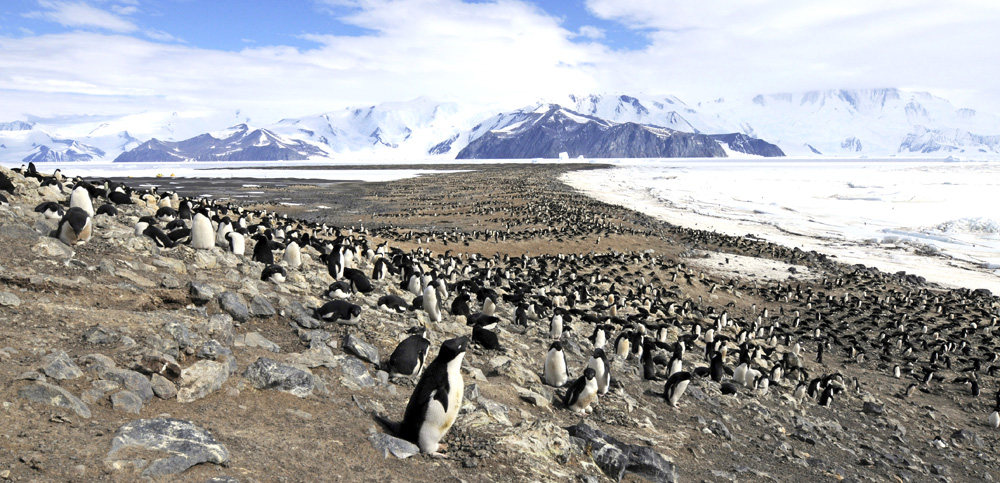 Adélie Penguin (Pygoscelis adeliae) colony at Seabee Hook, Cape Hallett, Ross Sea. Photo: © Colin Harris.
This project was initiated by BirdLife International and the Bird Biology Sub-committee of Scientific Committee on Antarctic Research (SCAR) to identify sites within the Antarctic region that meet BirdLife criteria for internationally Important Bird Areas. In 2002, experts from SCAR and BirdLife International identified an initial list of IBAs meeting the criteria. Although many IBAs were included in this list, new species data have since become available and this affected the sites qualifying for IBA status. The project was re-initiated by BirdLife International to complete the list of IBAs for Antarctica with support from the Governments of Australia, New Zealand, Norway, the United Kingdom and the United States, and with additional support from the Pew Charitable Trusts and the British Bird Fair 2014.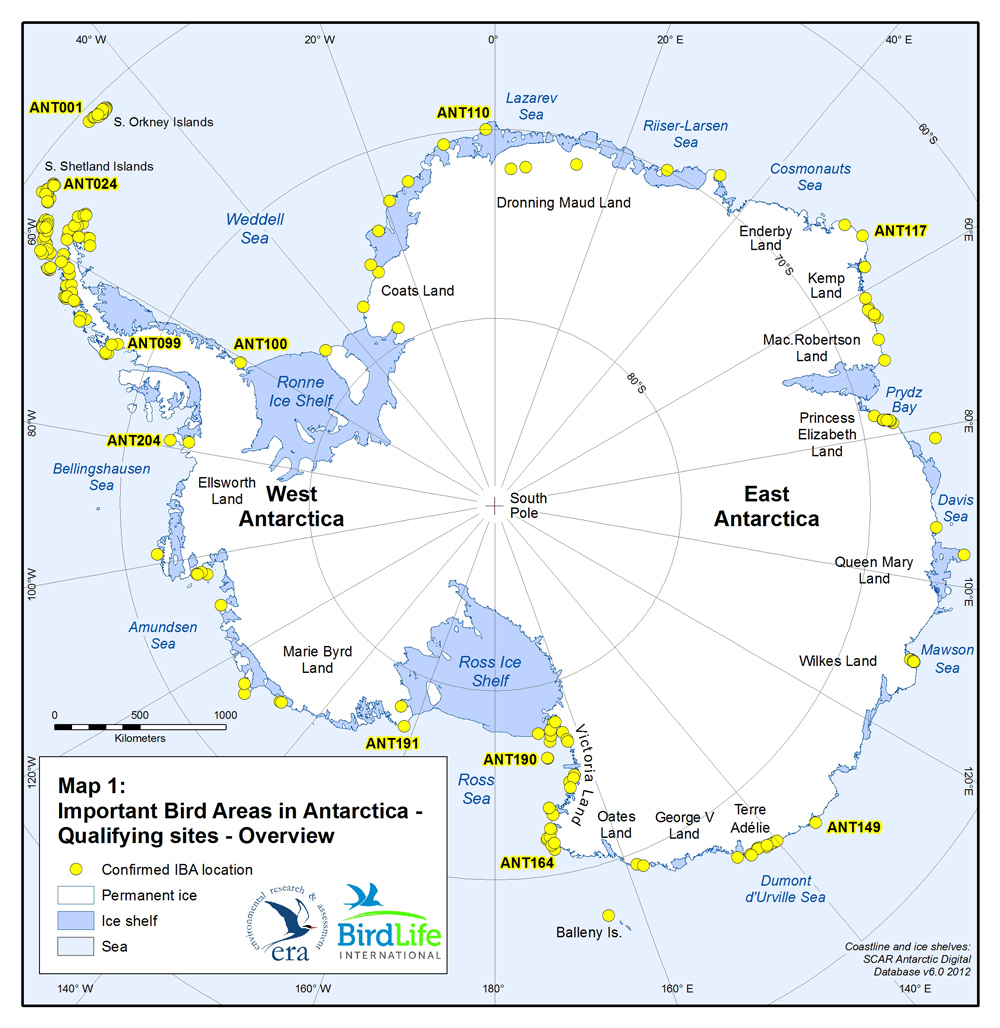 IBAs in Antarctica Overview Map (the IBA numbering system is indicated)
IBA sites are being identified across each major geographic region of the world and more information on current networks of IBAs can be found at Birdlife International.
This project has been undertaken region by region, and an earlier report defining IBAs for the Antarctic Peninsula, South Shetland Islands and South Orkney Islands was prepared in 2011. While the Important Bird Areas in Antarctica - Antarctic Peninsula / South Shetland Islands / South Orkney Islands: Final report (PDF 9MB) is made available here for reference, this has now been superceded by the report covering the whole of Antarctica described and linked above.